> Investment Accounts - Having fast access to Account Information like account numbers is key to any successful financial service practice. The Account Info screen in 4Avisors 3.0 is designed to contain most pertinent information that might be included on a new brokerage account form or mutual fund application.
> Manually keep track of Asset Allocation holdings while automatically updating the
clients networth.
> Manually keep track of Securities Held.
> Insurance policies - 4Advisors 3.0 allows you to keep track of the all types of insurance policies the client owns.
> Performs one button "Contains Lookup" on any field without using ACT!'s advanced query.

> Calculates the Total Cash Value.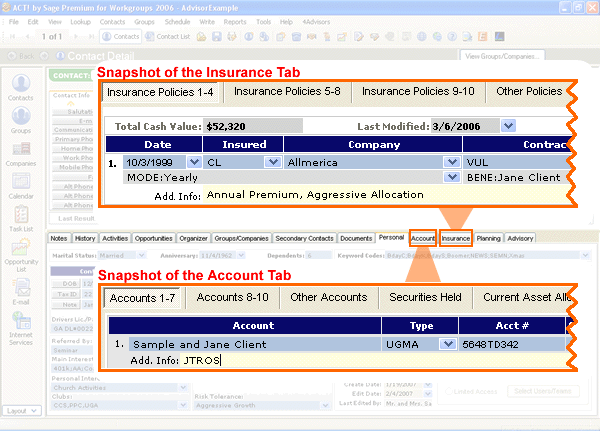 4Advisors 3.0 gives you immediate access to account numbers and links to the online account(s) for more specific account information. Search for account types, custodians or specific account registrations with the 4Advisors Contains Lookup. Utilize the Additional Information field for wiring instructions, distribution or systematic investment infomation.

The 4Advisors Contains Lookup

allows you to easily search for all clients that own a specific security helping you stay in compliance with product cross referencing rules.
4Advisors 3.0 tracks all types of insurance policies including Life, Disability, LTC, Medical, P&C, etc. and automatically calculates Total Cash Value. The additional information field allows you to track extra information that might be pertinent to a specific policy. For Variable Life and Variable Annuities you might enter in the subaccounts. For DI, you might enter in the elimination period or benefit period. Without inundating you with more data fields than necessary, we give you access to the information you need to track and effectively manage the policies.